M

essage from the Director

With great appreciation for everyone's contributions, I am pleased to present the accomplishments of the past year at GREZOSP. This is the second annual activity report since I took office as Director.
If the previous year was marked by the arrival of a first variant of COVID-19, it is fair to say that this year has given us a lot! Fortunately, it has also been an intense and productive year in our group.
In addition to the epidemiology seminars, we have been able to offer knowledge transfer activities for different audiences, many in collaboration with other institutions and organizations. When we promote the "One Health" approach, it goes without saying that we must encourage exchanges between different environments and disciplines and promote systems thinking!
Thanks to the new agreement signed with the Canadian Food Inspection Agency, which complements the long-standing support of the Public Health Agency of Canada, this year GREZOSP was able to create a funding program for pilot research projects, trainees and knowledge transfer activities, and to increase the number of recruitment grants. Below are summaries of the research projects of the students who received these awards. GREZOSP has also supported several student-organized activities, whose dynamism is remarkable.
This year again, collaborations between researchers and professionals have been fruitful, allowing the meeting of multiple expertises leading to the obtaining of numerous research grants and publications in prestigious journals. I invite you to consult the network analysis of members' co-publications between 2017 and 2021.
Through the involvement of our members, we are continuously expanding our network and outreach, locally and internationally, and this will become more visible in 2022-2023. We have had two outreach articles reiterating the outline of the Policy Brief: One health as a pillar for a transformative pandemic treaty, a document for the World Health Organization, published in The Conversation reiterating the need for and benefits of including "One health" in a pandemic treaty. More and more, we are collaborating at all levels of public health. This is not over!
Our group is rich in expertise and the advances of the past year give us great hope and optimism for the future. Our aspirations to contribute to the advancement of knowledge and the development of new tools in population health epidemiology and "One Health" are becoming a reality day after day.
Let's be collectively proud of our achievements so that they propel us forward!
Happy reading!
Hélène Carabin, Director
a unique research group located in the only French-speaking faculty of veterinary medicine in America
veterinary public health pavilion where professionals from two two federal agencies and the FMV
members representing some fifteen institutions and organizations
professors and researchers
In the field: Spotlight on GREZOSP-supported student research projects
Katrina Di Bacco, PhD student under the supervision of Hélène Carabin: "Estimating the frequency of neglected parasitic zoonoses in humans in Canada"
Parasitic zoonoses are responsible for a significant amount of disease and disability adjusted life years (DALYs) worldwide and in Canada. These parasites can be transmitted
between animals and humans, which presents a challenge for their control, as changing environmental conditions and animal reservoirs can influence the frequency of transmission. The parasitic zoonoses studied in this proposed thesis, Taenia solium, Toxocara sp., Toxoplasma gondii, Echinococcus sp., Baylisascaris sp. weré selected for their burden of disease, including potential neurological and mental health disorders and, with the exception of T.solium, their relatively high abundance in northern Canada. Few tests for these infections are performed in the Canadian population, and the frequency of testing in animals varies greatly by region and clinician expertise; therefore, the frequency of these zoonotic parasitic infections is not known. This proposed thesis aims to estimate the frequency of parasitic zoonoses in animal and human hosts by reviewing the scientific literature and aims to estimate the seroprevalence of selected infections in the Canadian population.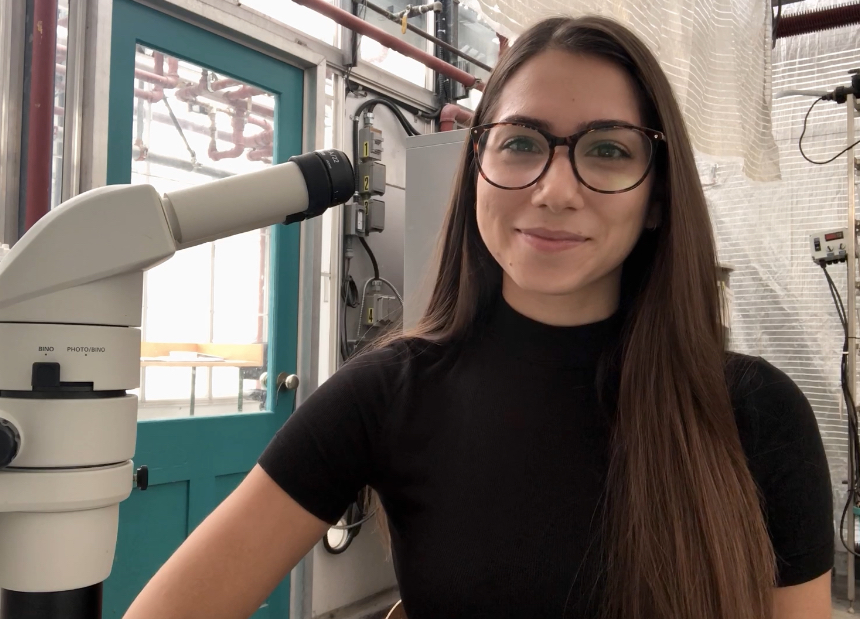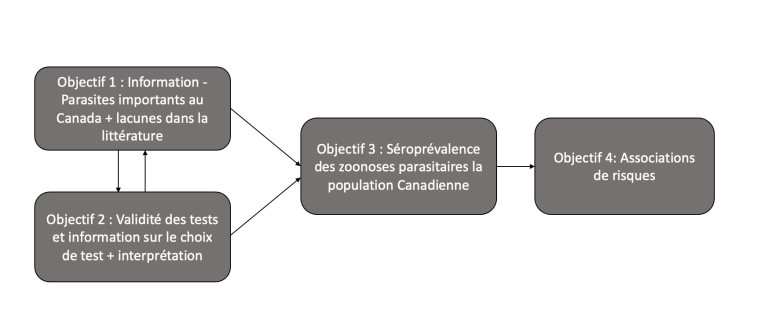 A gap in the scientific literature is that there are currently no review articles that bring together all the information on prevalence estimates of parasitic zoonoses in Canada in both humans and animals. We will first conduct a systematic review of all articles on animal and human infections by zoonotic parasites in Canada and their spatial distribution. Achievement of Objective 1 will allow us to select the most important neglected species of zoonotic parasites in Canada, and we will complete a systematic review to determine the validity of diagnostic tests for these parasites. To estimate the seroprevalence of parasitic zoonotic diseases and determine risk associations across Canada, we will use the Canadian Health Measures Survey (CHMS) biobank. The CHMS collects health measure data from 3,000 to 6,000 Canadians and 6,000 Canadians and permanent residents every two years by validated questionnaires. Blood samples are also collected.  Using the data from the questionnaires, we can also examine many factors such as age, gender, education, immigration status, occupation, province, type of municipality, number of people in the household and average income to determine risk associations.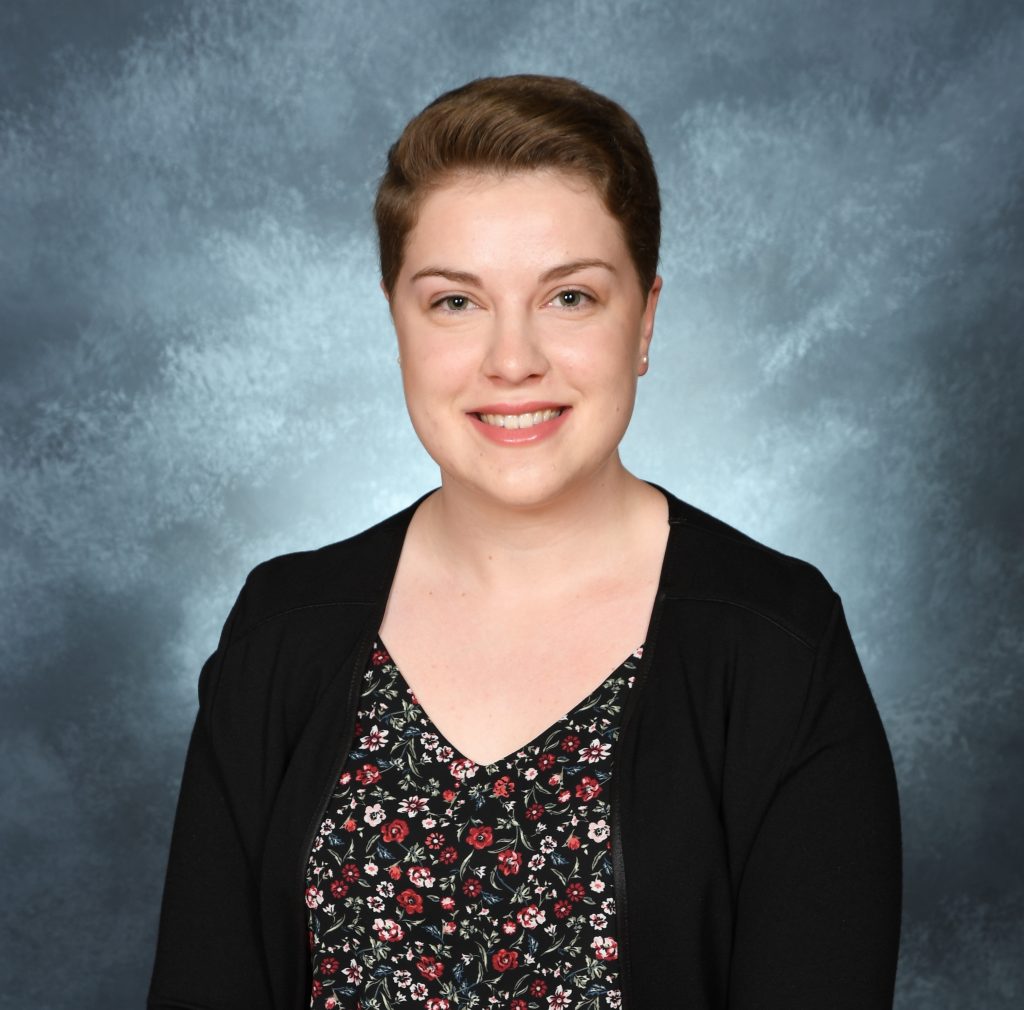 Emmie Ouellet, Master's student under the supervision of Julie Arsenault: "Prospective study on the incidence, persistence and impacts of  intramammary infections in small ruminant dairy herds in Quebec".
The goat and sheep dairy sectors are growing rapidly worldwide. In Quebec, these sectors contribute to the diversity of the food supply and to regional development. The production of quality milk is essential to maintain the competitiveness and profitability of these businesses, as well as the safety and quality of the products offered to consumers. Bacterial infections of the mammary gland are considered the main factor that can affect milk quality. However, knowledge of the bacteria causing these infections and their impacts is limited in small ruminants.
The project aims to provide a picture of the situation regarding mammary health and milk quality in small dairy ruminants on Quebec farms. In each participating farm, goats and ewes will be monitored over a period of one year to evaluate the prevalence and incidence of mammary gland infections and to determine their impact on the quantity of milk produced. The various factors that vary milk somatic cell counts will also be evaluated, such as the presence of these intramammary infections, conformation and a variety of physiological factors. Adapted interpretation thresholds for somatic cell counts will be proposed. This information will be used to help producers and their veterinarians prioritize actions to prevent and control mammary gland infections. Improved milk quality will benefit farm profitability and competitiveness as well as public health.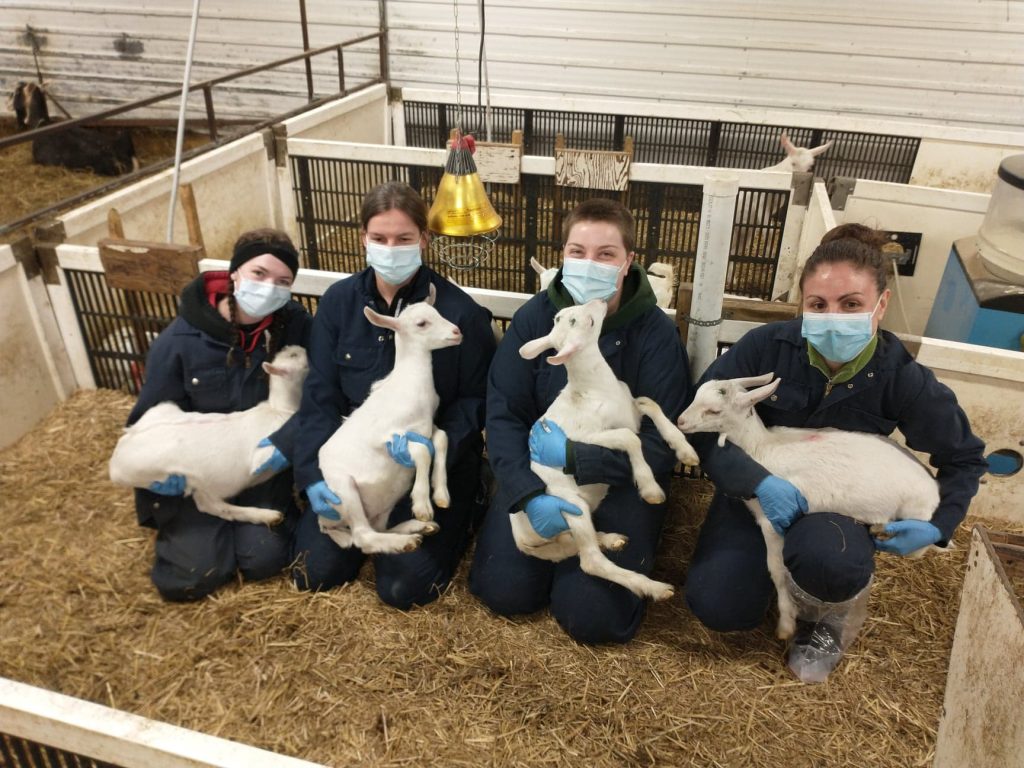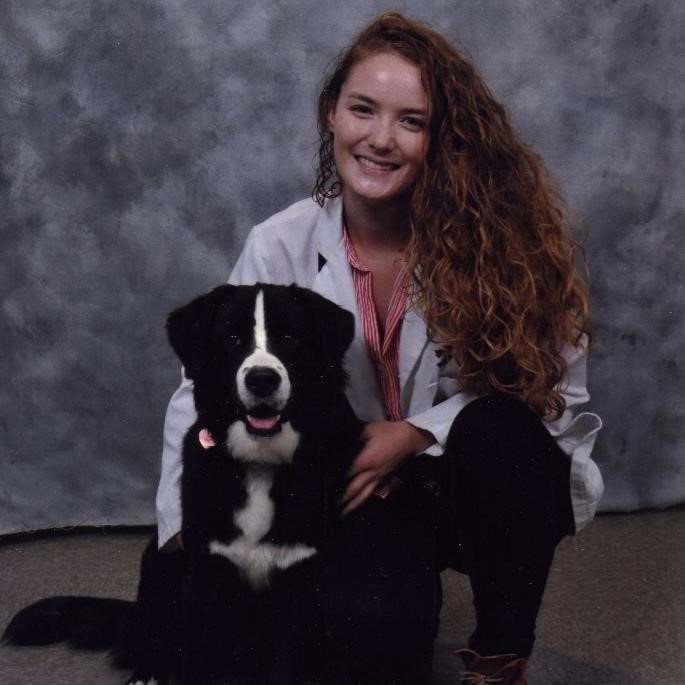 Nikky Millar, PhD student under the supervision of Cécile Aenishaenslin and the co-supervision of Simon Dufour: "Reduction of antimicrobials in animal production: impacts and prioritization of interventions".
In Quebec, a new regulation limits the use of antimicrobials (AMUs) of very high importance in human medicine (classified according to Health Canada as Category 1 antimicrobials) in food animals since February 2019. These regulations prohibit their use for preventive purposes and limit their use to therapeutic purposes only. Thus, Category 1 AMU can be done only after the veterinarian demonstrates that antimicrobials of lesser importance to humans (i.e., Category 2 and 3) are not effective. Prior to 2019, Category 1 antimicrobials were frequently used in dairy production, particularly for the treatment of bovine mastitis. An initial study conducted as part of this thesis showed a drastic reduction in category 1 AMU in this sector, without a significant increase in category 2 and 3 AMU (objective 1). In continuity with these promising initial results, this project aims to evaluate the impacts of restrictive regulations on AMU in the dairy sector in Quebec, and to identify measures (increased biosecurity, regulations, education, etc.) to be put in place for a more judicious use of antimicrobials in animal production.
As a continuation of this thesis, we want to (1) determine the changes in AMU practices at the farm level among dairy producers, as well as the associated factors, (2) identify the barriers and elements that have favoured the change in the practices of dairy producers and veterinarians, and (3) identify and prioritize the measures to be implemented in order to reduce AMU in animal production while limiting the consequences for the agri-food industry and animal welfare. To achieve these objectives, we will use mixed methodologies. For objective 2, a cohort study will be conducted to determine which farming practices have been modified to generate the reduction in AMU observed in objective 1. To do this, two questionnaires have already been administered to a sample of 100 producers before and after the implementation of the regulation. Multivariate statistical analyses will be used to determine the main changes in dairy farm practices. For objective 3, a qualitative methodology inspired by the "Behaviour Change Wheel" theoretical model will be used. Forty-five individual semi-structured interviews with Quebec veterinarians and dairy producers have already been conducted. The analysis is in progress. Finally, the last objective will use a participatory approach with key stakeholders to develop a multi-criteria analysis model to prioritize future interventions to reduce antimicrobial use in animal production. This is the first study in North America to use a variety of methodologies to understand the effects of livestock regulations to reduce AMU. This project is the first of its kind to address AMU reduction in a comprehensive manner with a full review of the considerations of the stakeholders involved in this development (producers, processors, veterinarians, consumers).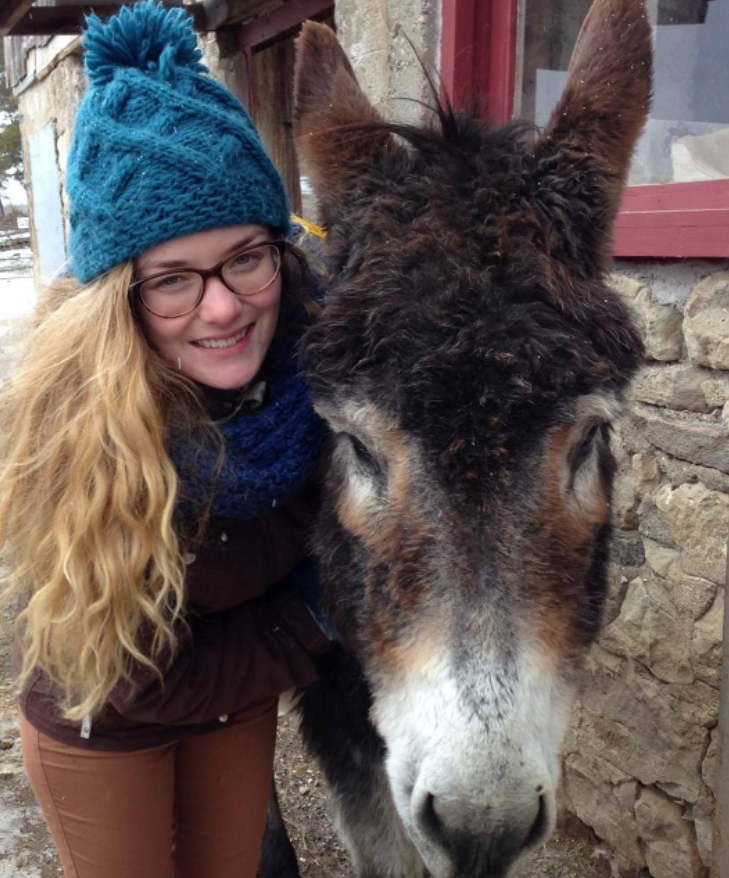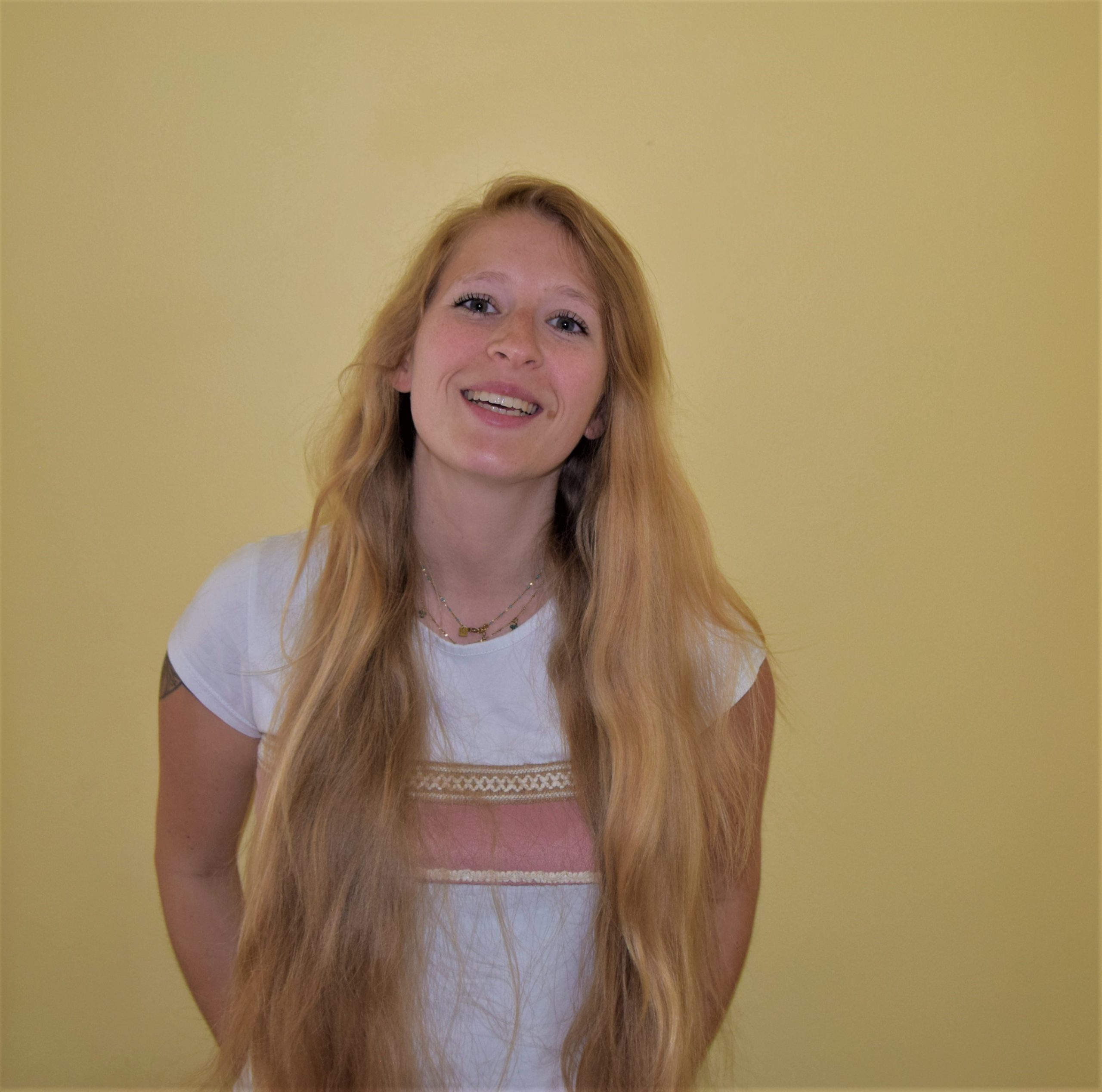 Marine Hubert, PhD student under the supervision of Hélène Carabin and the co-supervision of Bouchra Nasri: "Defining the role of animals as reservoirs in the transmission of SARS-COV-2 and using mathematical models to illustrate zoonotic transmission".
This PhD project is part of theme 1 of the OMNI-REUNIS project aiming to improve the knowledge of zoonotic diseases through a "One Health" approach, a concept now recognized that seeks to promote public health by studying not only health at the human level but also animal health and environmental factors, these elements being closely linked in the context of zoonotic diseases and cannot be dissociated in order to effectively fight these diseases.
The objective of this PhD project is to study and understand, by means of mathematical modeling, the role that animal reservoirs (particularly rodents) play in the transmission of zoonoses and the parameters influencing the dynamics of these zoonoses. In this context, developing mathematical models conceptualizing the transmission of such diseases would allow us to better understand this transmission but also to predict how the epidemiological course will evolve. To this end, she intends to extract data from field samples collected from rodents caught in their natural environment. Ecological data allowing the characterization of the ecosystem will also be collected. These data will then be used to create transmission models, including agent-based models that will model the interactions between different variables and a pathogen.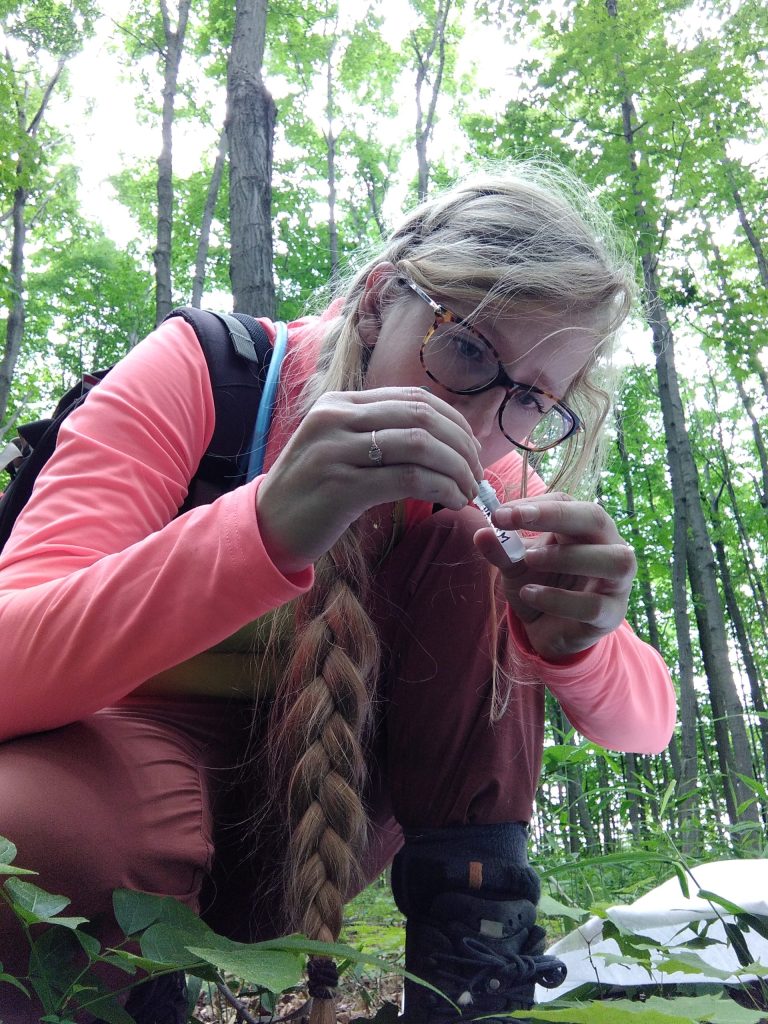 Works by the GREZOSP related to the COVID-19 pandemic and other zoonotic diseases
Study on the risk of COVID-19 infection in cats: Frequent seroconversion but low viral shedding in domestic cats after exposure to SARS-CoV-2 in their household
This research project, led by Dr. Cécile Aenishaenslin's team, which also includes Dr. Hélène Carabin and Dr. Julie Arsenault, was designed to investigate the risk of SARS-CoV-2 infection in domestic cats residing in households with at least one recent laboratory-confirmed human case of COVID-19, and to explore potential risk factors.
The study was conducted in Quebec (Qc) and British Columbia (BC) between January and December 2021. Forty-two cats from 31 households (Qc) and 14 cats from 8 households (BC) were recruited. Oronasal and rectal swabs, as well as sera, were collected from the cats as soon as possible after human case confirmation and one week later. RT- qPCR was used to detect SARS-CoV-2 RNA in the swabs and a traditional ELISA developed at the University of Guelpĥ was used to detect IgG antibodies in the sera.
In total, 17.9% cats had at least one RT-qPCR-positive sample and more than one-third of the cats (69.2%) had at least one positive serological result. The probability of a positive RT-PCR result was 5.6 times higher in cats with clinical signs consistent with COVID-19 reported by their owners.
This study suggests that infection of domestic cats with SARS-CoV-2 in households with human cases of COVID-19 is common, but that shedding of the virus is generally low, even if samples are taken soon after confirmation of exposure.This project was funded by the Public Health Agency of Canada. Research activities in Quebec were led by Cécile Aenishaenslin (Université de Montréal) and those in British Columbia were led by Erin Frazer (BC-CDC).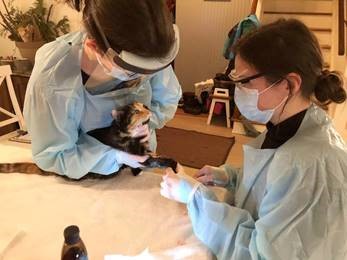 Vignettes on mathematical modeling concepts in epidemiology

Due to the great success of the introductory workshop on mathematical modeling given at the Faculty of Veterinary Medicine by Professor Karine Chalvet-Monfray, from the VetAgro Sup veterinary school (Lyon, France), in January 2020, it was decided to reproduce part of the pedagogical material delivered in this workshop in the form of video capsules. These videos, produced in French, are aimed at an audience that is new to mathematical modeling but relatively familiar with public health issues and general epidemiological concepts. They aim to explain the basic principles of compartmental mathematical modeling, to better understand what happens during an epidemic or in an endemic situation. They are based on concrete examples, such as the COVID-19 epidemic, which we had to deal with recently and which is still of concern to us.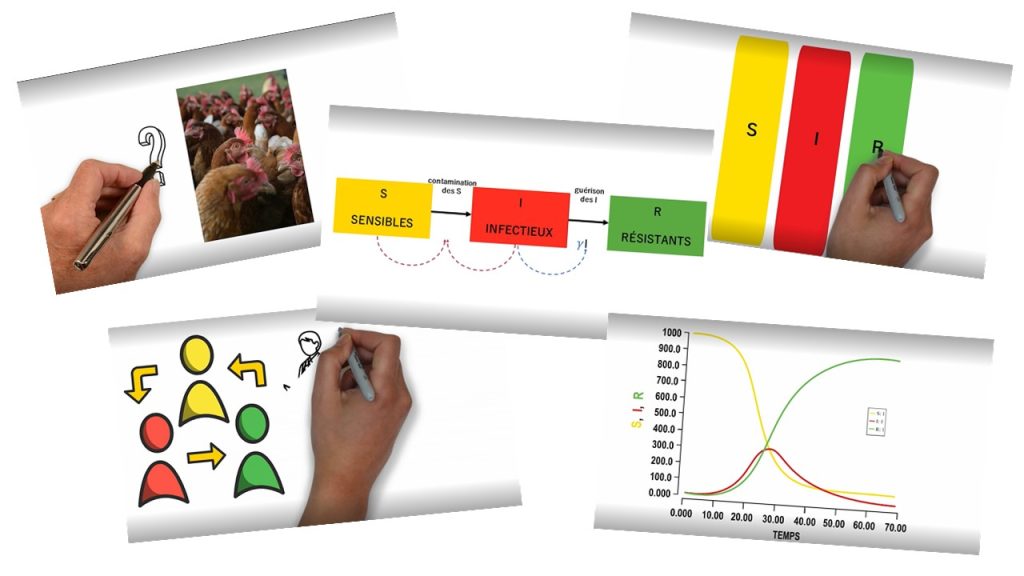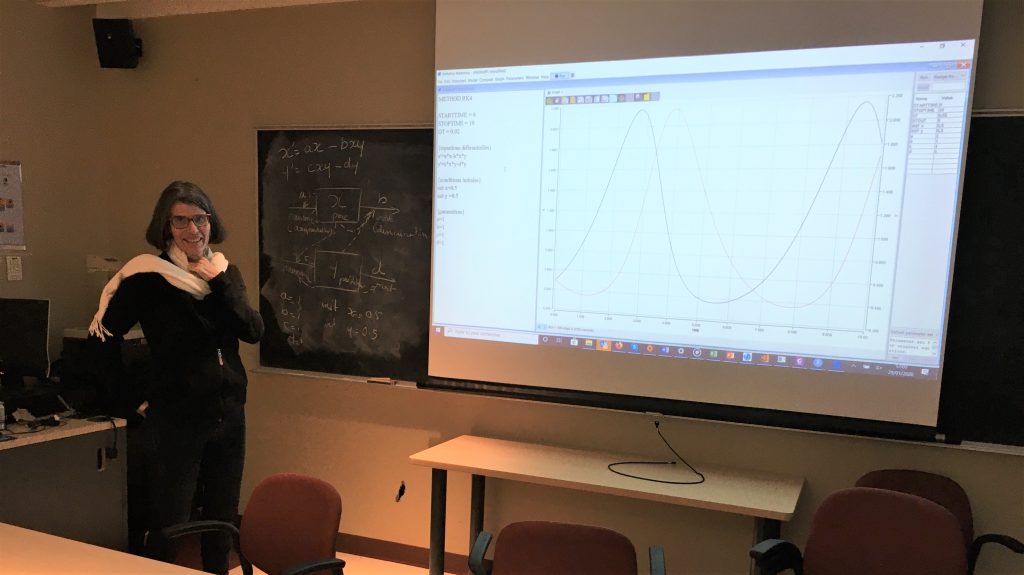 The vignettes, about ten in all, of a few minutes each, should be available in the summer of 2022. They are a mix of animations and tutorials that should allow listeners to create their own model in at least two open-source software programs, Berkeley Madonna and R. This innovative project is a collaboration between Karine Chalvet-Monfray, Hélène Carabin, a professor of epidemiology at the FMV, Antoinette Ludwig and Baki Cissé, researchers at the National Microbiology Laboratory of the Public Health Agency of Canada, and Suzie Savard, head of the FMV's Centre of Expertise for Continuous Competency Development.
One Health Clinic Conference
On March 15, 2022, a workshop on One Health co-hosted by GREZOSP and U of M students for One Health was presented by Deborah Thomson DVM, Chair of the World Veterinary Association's One Health Education Subgroup, author and speaker.  This workshop was followed by a 90-minute hybrid conference with over 60 participants.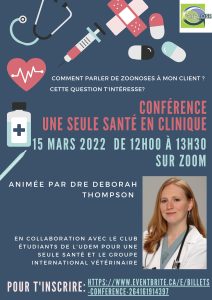 Webinar series on human-animal cohabitation in the city
During the spring and fall of 2021, GREZOSP organized a series of four webinars on the theme of human-animal cohabitation in the city, in collaboration with the Institut Santé et société de l'Université du Québec à Montréal and the Stratégie québécoise de santé et de bien-être des animaux.  Caroline Kilsdonk presented "Human-animal cohabitation in the urban environment: establishing a dialogue", Jean-Pierre Vaillancourt moderated "New modes of human-animal cohabitation in urban and peri-urban areas : Chickens in the city", Marie-Claude Gagnon, Manon Desmarchelier and Catherine Amiot presented "Human-animal cohabitation: Dogs in the city" and the webinar "Human-animal cohabitation: Cats in the city" was moderated by Sarah-Maude Cossette, Geneviève LeSieur, Ariane Massé and Gabrielle Perras St-Jean.  Most of these conferences are available online.
Video clip for the "World One Health Day"
On the occasion of World One Health Day, the GREZOSP produced a video clip in collaboration with the Centre for Public Health Research and the Global One Health Network (G1HN).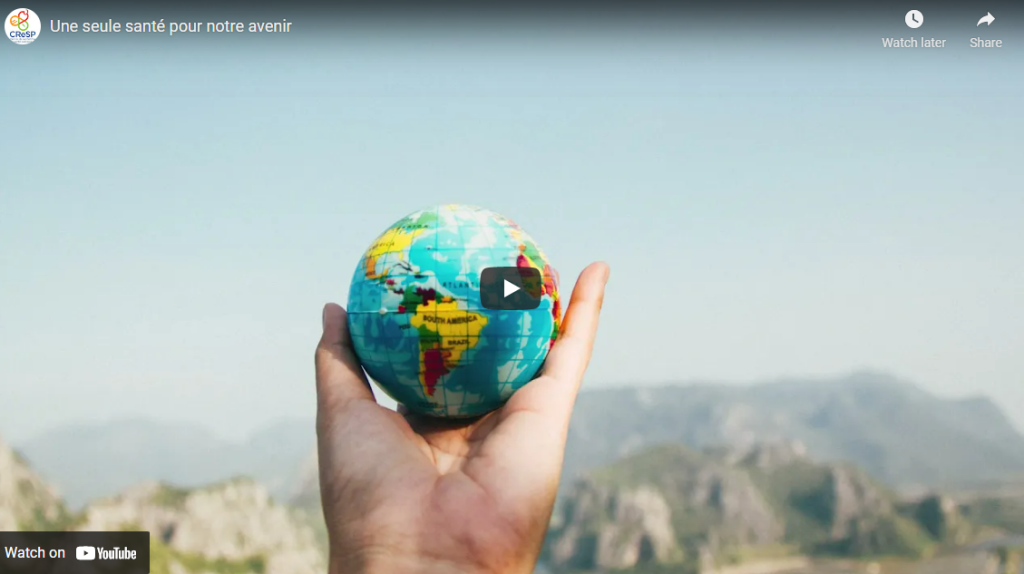 News from Science Infuse, the GREZOSP podcast
Created in early 2020 by GREZOSP students, the "Science Infuse" podcast continues to popularize the group's research for its members, partners, and the general public. In November 2020, we closed our special "Lessons from a Pandemic" series in style, with the "All for One!" episode addressing the One Health approach. At the same time, students who were not yet familiar with the podcast were introduced to it during the November 18, 2021 happy hour, including some great mugs… to get the science flowing! Despite some departures, the team has grown. It now has 7 students sharing the writing of the episodes: to the original members still present (Valérie Hongoh, Carol-Anne Villeneuve, Léa Delesalle) we now add Nikky Millar, Sarah Mediouni, Agathe Allibert and Eve-Marie Lavallée-Bourget. They bring with them new ideas, and several episodes are being prepared, on subjects as varied as Lyme disease, the use of secondary data in epidemiology or the functioning of large public health institutions. Stay tuned!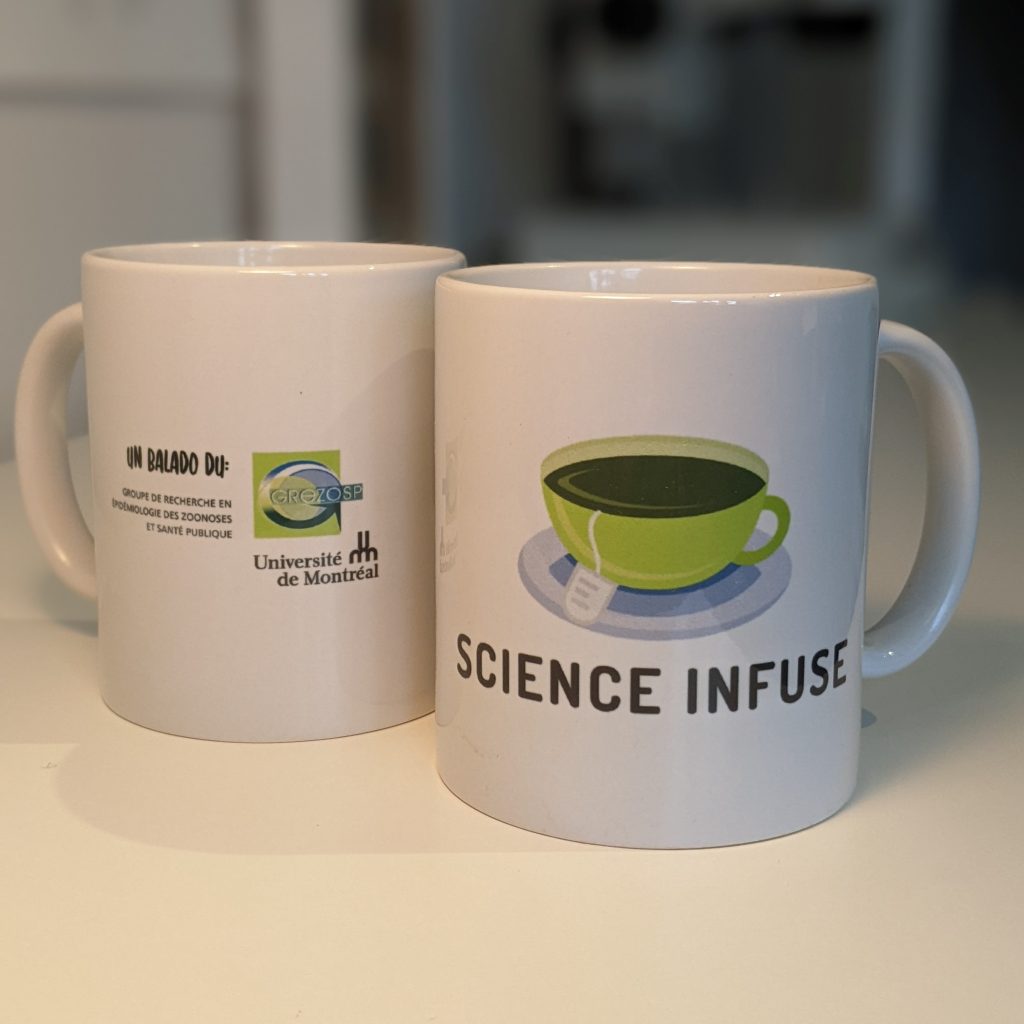 GREZOSP awards and grants
GREZOSP has a strong commitment to supporting its graduate students.  Since its inception in 2015, the GREZOSP Fellowship Program has distributed nearly $150,000 to its students for both recruitment and end-of-course support as well as to enable them to present their results at international conferences, including the International Symposium of Veterinary Epidemiology and Economics.  Many of these graduates are now working in Quebec as professionals in organizations such as PHAC, CFIA and INSPQ, as well as in France and Niger.
In 2021-2022, GREZOSP launched its new recruitment fellowship program to foster the next generation of researchers and professionals in the context of veterinary epidemiology and the "One Health" approach.
The recipients of the GREZOSP scholarships for 2021-2022 are Marine Hubert, a PhD student under the supervision of Hélène Carabin, Emmie Ouellet, a master's student under the supervision of Julie Arsenault, Nikky Millar, a PhD student under the supervision of Cécile Aenishaenslin and Katrina Di Bacco, a PhD student under the supervision of Hélène Carabin.
In addition, GREZOSP students are eligible for two public health awards and scholarships awarded by the Faculty of Veterinary Medicine at the 2021-2022 Annual Awards Ceremony held on March 10, 2022.  The Victor-Théodule Daubigny Prize was awarded to Sarah-Kim Bisson, a 4th year DMV student, and the Caisse Desjardins de la région de Saint-Hyacinthe Bursary was awarded to Jérôme Pelletier, a doctoral student under the supervision of Patrick Leighton, Antoine Levasseur, a master's student under the supervision of Julie Paré and Ève-Marie Lavallée-Bourget, a master's student under the supervision of Julie Arsenault.
Our network of researchers
In order to describe the network of collaboration between the regular members of GREZOSP, the Executive Committee mandated Mr. Jérôme Pelletier, a doctoral candidate in veterinary sciences with an option in epidemiology, to analyze our network of researchers based on the collaborative publications of its members.
In the graph below, each point is an author, the thickness of the lines is proportional to the number of collaborations between 2 authors, and the aggregates have been generated by an algorithm in order to bring together the researchers who collaborate the most between them.
Follow us on social media!
Executive Committee
Hélène Carabin
Director of GREZOSP and full professor at FMV
Liliane Fortin
Coordinator
Caroline Kilsdonk
Research Advisor
Patrick Leighton
Assistant Director of GREZOSP and Associate Professor at FMV
Board of Directors
Chair
Jean-Pierre Lavoie
Vice-Dean of Research at FMV
Members
Hélène Carabin
Director of GREZOSP and full professor at FMV
Julie Paré
Epidemiologist, Science Branch, Canadian Food Inspection Agency and FMV associate professor
Nicholas H. Ogden
Director, Public Health Risk Science Division, National Microbiology Laboratory @ St-Hyacinthe/Guelph, Public Health Agency of Canada
Jean-Philippe Rocheleau
Professor / Head of Departmental Coordination, Department of Animal Health, Cégep de Saint-Hyacinthe and Associate Professor at the FMV
Scientific Committee
Hélène Carabin
Director of GREZOSP and full professor at FMV
Farouk El Allaki
Epidemiologist and Science Advisor, Canadian Food Inspection Agency
Antoinette Ludwig
Veterinary epidemiologist at the Public Health Agency of Canada and associate professor at FMV
Jérôme Pelletier
PhD student in epidemiology at FMV
Mohamed Rhouma
Assistant Professor at FMV
Patricia Turgeon
Section Head and Epidemiologist at the Public Health Agency of Canada and Associate Professor at FMV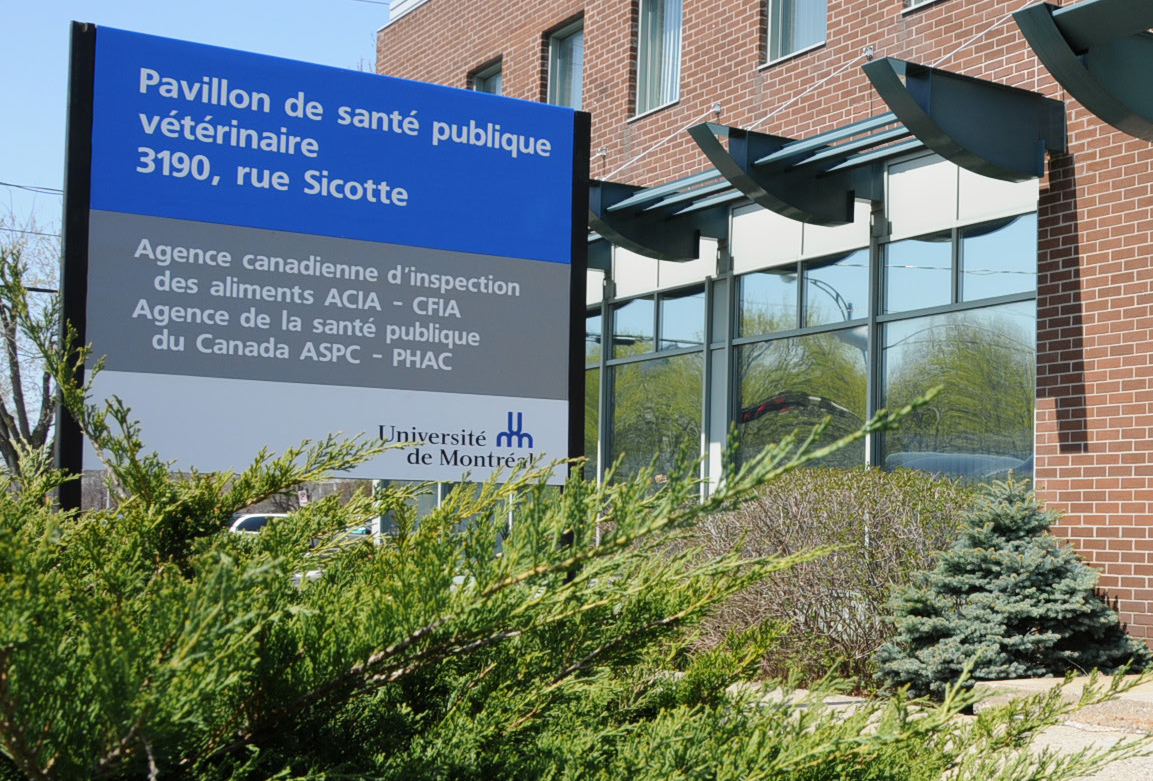 Our researchers have published numerous papers under the GREZOSP affiliation in 2021-2022:
Aenishaenslin C, Charland K, Bowser N, Perez-Trejo E, Baron G, Milord F, Bouchard C.  Behavioral risk factors associated with reported tick exposure in a Lyme disease high incidence region in Canada. BMC Public Health. 2022 Apr 22;22(1):807. doi: 10.1186/s12889-022-13222-9; PMID: 35459149.
Allibert A, Tinland A, Landier J, Loubière S, Gaudart J, Mosnier M, Farnarier C, Auquier P, Mosnier E. Residential Mobility of a Cohort of Homeless People in Times of Crisis: COVID-19 Pandemic in a European Metropolis. Int J Environ Res Public Health. 2022 Mar 7;19(5):3129. doi: 10.3390/ijerph19053129; PMID: 35270823.
Bouchard É, Schurer JM, Kolapo T, Wagner B, Massé A, Locke SA, Leighton P, Jenkins EJ. Host and geographic differences in prevalence and diversity of gastrointestinal helminths of foxes (Vulpes vulpes), coyotes (Canis latrans) and wolves (Canis lupus) in Québec, Canada. Int J Parasitol Parasites Wildl. 2021 Sep 8;16:126-137. doi: 10.1016/j.ijppaw.2021.09.002. eCollection 2021 Dec; PMID: 34552844.
Bouchard É, Sharma R, Hernández-Ortiz A, Buhler K, Al-Adhami B, Su C, Fenton H, G-Gouin G, Roth JD, Rodrigues CW, Pamak C, Simon A, Bachand N, Leighton P, Jenkins E. Are foxes (Vulpes spp.) good sentinel species for Toxoplasma gondii in northern Canada? Parasit Vectors. 2022 Apr 1;15(1):115. doi: 10.1186/s13071-022-05229-3; PMID: 35365191.
Canuti M, Bouchard É, Rodrigues B, Whitney HG, Hopson M, Gilroy C, Stenson G, Dufour SC, Lang AS, Verhoeven JTP. Newlavirus, a Novel, Highly Prevalent, and Highly Diverse Protoparvovirus of Foxes (Vulpes spp.). Viruses. 2021 Sep 30;13(10):1969. doi: 10.3390/v13101969; PMID: 34696399.
Cherifi T, Arsenault J, Quessy S, Fravalo P. Co-Occurrence of L. monocytogenes with Other Bacterial Genera and Bacterial Diversity on Cleaned Conveyor Surfaces in a Swine Slaughterhouse. Microorganisms. 2022 Mar 14;10(3):613. doi: 10.3390/microorganisms10030613; PMID: 35336188.
Delesalle L, Sadoine ML, Mediouni S, Denis-Robichaud J, Zinszer K, Zarowsky C, Aenishaenslin C, Carabin H. How are large-scale One Health initiatives targeting infectious diseases and antimicrobial resistance evaluated? A scoping review. One Health. 2022 Mar 24;14:100380. doi: 10.1016/j.onehlt.2022.100380. eCollection 2022 Jun; PMID: 35386427.
Denis-Robichaud J, Aenishaenslin C, Richard L, Desmarchelier M, Carabin H. Association between Pet Ownership and Mental Health and Well-Being of Canadians Assessed in a Cross-Sectional Study during the COVID-19 Pandemic. Int J Environ Res Public Health. 2022 Feb 16;19(4):2215. doi: 10.3390/ijerph19042215; PMID: 35206405.
Dumas A, Bouchard C, Lindsay LR, Ogden NH, Leighton PA. Fine-scale determinants of the spatiotemporal distribution of Ixodes scapularis in Quebec (Canada). Ticks Tick Borne Dis. 2022 Jan;13(1):101833. doi: 10.1016/j.ttbdis.2021.101833. Epub 2021 Sep 23; PMID: 34600416.
Dumas A, Bouchard C, Dibernardo A, Drapeau P, Lindsay LR, Ogden NH, Leighton PA. Transmission patterns of tick-borne pathogens among birds and rodents in a forested park in southeastern Canada. PLoS One. 2022 Apr 7;17(4):e0266527. doi: 10.1371/journal.pone.0266527. eCollection 2022; PMID: 35390092.
Duplaix L, Wagner V, Gasmi S, Lindsay LR, Dibernardo A, Thivierge K, Fernandez-Prada C, Arsenault J. Exposure to Tick-Borne Pathogens in Cats and Dogs Infested With Ixodes scapularis in Quebec: An 8-Year Surveillance Study. Front Vet Sci. 2021 Jul 15;8:696815. doi: 10.3389/fvets.2021.696815. eCollection 2021.PMID: 34336980. 
Duplaix L, Turgeon P, Lévesque B, Rocheleau JP, Leboeuf A, Picard I, Manguiat K, Wood H, Arsenault J. Seroprevalence and risk factors of antibodies against Coxiella burnetii among dog owners in southwestern Québec, Canada. Epidemiol Infect. 2021 Jun 28;149:1-45. doi: 10.1017/S0950268821001412; PMID: 34176524.
Forest-Bérard K, Ripoche M, Irace-Cima A, Thivierge K, Adam-Poupart A. More than ticking boxes: Training Lyme disease education ambassadors to meet outreach and surveillance challenges in Québec, Canada. PLoS One. 2021 Oct 12;16(10):e0258466. doi: 10.1371/journal.pone.0258466. eCollection 2021; PMID: 34637465.
Gray JS, Ogden NH. Ticks, Human Babesiosis and Climate Change. Pathogens. 2021 Nov 4;10(11):1430. doi: 10.3390/pathogens10111430; PMID: 34832586.
Guillot C, Bouchard C, Berthiaume P, Mascarenhas M, Sauvé C, Villeneuve CA, Leighton P. A Portrait of Sentinel Surveillance Networks for Vector-Borne Diseases: A Scoping Review Supporting Sentinel Network Design. Vector Borne Zoonotic Dis. 2021 Nov;21(11):827-838. doi: 10.1089/vbz.2021.0008. Epub 2021 Aug 4; PMID: 34348055.
Gyorkos TW, Carabin H, Phillip M, Benedict L, Davis A, Hatcher Roberts J, Wasan KM, Ndao M, Krentel A. Canadian contributions to research on neglected tropical diseases. PLoS Negl Trop Dis. 2021 Jul 1;15(7):e0009476. doi: 10.1371/journal.pntd.0009476. eCollection 2021 Jul; PMID: 34197474.
Igihozo G, Henley P, Ruckert A, Karangwa C, Habimana R, Manishimwe R, Ishema L, Carabin H, Wiktorowicz ME, Labonté R. An environmental scan of one health preparedness and response: the case of the Covid-19 pandemic in Rwanda. One Health Outlook. 2022 Jan 16;4(1):2. doi: 10.1186/s42522-021-00059-2; PMID: 35033197.
Jacquinet C, Blin M, Vaillancourt JP. Lessons learned from three avian influenza simulation exercises in the southwest of France. Prev Vet Med. 2022 Apr;201:105595. doi: 10.1016/j.prevetmed.2022.105595. Epub 2022 Feb 16.PMID: 35219072.
Lardé H, Francoz D, Roy JP, Massé J, Archambault M, Paradis MÈ, Dufour S. Comparison of Quantification Methods to Estimate Farm-Level Usage of Antimicrobials Other than in Medicated Feed in Dairy Farms from Québec, Canada. Microorganisms. 2021 May 20;9(5):1106. doi: 10.3390/microorganisms9051106.PMID: 34065528.
Lardé H, Francoz D, Roy JP, Archambault M, Massé J, Paradis MÈ, Dufour S. Comparison of Quantification Methods to Estimate Farm-Level Usage of Antimicrobials in Medicated Feed in Dairy Farms from Québec, Canada. Microorganisms. 2021 Aug 30;9(9):1834. doi: 10.3390/microorganisms9091834.PMID: 34576729.
Leighton FA, Leighton PA, Wood S, Kuiken T. Revenge of the Trees: Environmental Determinants and Population Effects of Infectious Disease Outbreaks on a Breeding Colony of Double-Crested Cormorants (Phalacrocorax Auritus) Over a Period of 21 years. J Wildl Dis. 2021 Oct 1;57(4):773-783. doi: 10.7589/JWD-D-20-00213. PMID: 34516647.
Levasseur A, Arsenault J, Paré J. Surveillance of West Nile virus in horses in Canada: A retrospective study of cases reported to the Canadian Food Inspection Agency from 2003 to 2019. Can Vet J. 2021 May;62(5):469-476. PMID: 33967285.
Lowe AM, Forest-Bérard K, Trudel R, Lo E, Gamache P, Tandonnet M, Kotchi SO, Leighton P, Dibernardo A, Lindsay R, Ludwig A. Mosquitoes Know No Borders: Surveillance of Potential Introduction of Aedes Species in Southern Québec, Canada. Pathogens. 2021 Aug 7;10(8):998. doi: 10.3390/pathogens10080998. PMID: 34451462.
Millar N, Aenishaenslin C, Lardé H, Roy JP, Fourichon C, Francoz D, Paradis MÈ, Dufour S. Evidence of a decrease in sales of antimicrobials of very high importance for humans in dairy herds after a new regulation restricting their use in Quebec, Canada. Zoonoses Public Health. 2022 Feb 24. doi: 10.1111/zph.12929. Online ahead of print. PMID: 35199952.
Natterson-Horowitz B, Desmarchelier M, Winkler AS, Carabin H. Beyond Zoonoses in One Health: Non-communicable Diseases Across the Animal Kingdom. Front Public Health. 2022 Jan 26;9:807186. doi: 10.3389/fpubh.2021.807186. eCollection 2021. PMID: 35178374.
Ogden NH, Ben Beard C, Ginsberg HS, Tsao JI. Possible Effects of Climate Change on Ixodid Ticks and the Pathogens They Transmit: Predictions and Observations. J Med Entomol. 2021 Jul 16;58(4):1536-1545. doi: 10.1093/jme/tjaa220. PMID: 33112403.
Pamela BE, Vasudevan P, Thamizhmaran S, Moorthy RK, Oommen A, Manoj J, Thanigachalam A, Zhang M, Drevets DA, Carabin H, Rajshekhar V. Monocyte Gene Expression Distinguishes Enhancing Brain Parenchymal Cysticercal Granulomas From Tuberculomas. Open Forum Infect Dis. 2021 Aug 12;8(9):ofab427. doi: 10.1093/ofid/ofab427. eCollection 2021 Sep. PMID: 34557561.
Rakotoarinia MR, Blanchet FG, Gravel D, Lapen DR, Leighton PA, Ogden NH, Ludwig A. Effects of land use and weather on the presence and abundance of mosquito-borne disease vectors in a urban and agricultural landscape in Eastern Ontario, Canada.  PLoS One. 2022 Mar 10;17(3):e0262376. doi: 10.1371/journal.pone.0262376. eCollection 2022. PMID: 35271575.
Sandberg M, Hesp A, Aenishaenslin C, Bordier M, Bennani H, Bergwerff U, Chantziaras I, De Meneghi D, Ellis-Iversen J, Filippizi ME, Mintiens K, Nielsen LR, Norström M, Tomassone L, van Schaik G, Alban L. Assessment of Evaluation Tools for Integrated Surveillance of Antimicrobial Use and Resistance Based on Selected Case Studies. Front Vet Sci. 2021 Jul 8;8:620998. doi: 10.3389/fvets.2021.620998. eCollection 2021.PMID: 34307513. 
Simon A, Beauchamp G, Bélanger D, Bouchard C, Fehlner-Gardiner C, Lecomte N, Rees E, Leighton PA. Ecology of Arctic rabies: 60 years of disease surveillance in the warming climate of northern Canada. Zoonoses Public Health. 2021 Sep;68(6):601-608. doi: 10.1111/zph.12848. Epub 2021 May 13.PMID: 33987941.
Tardy O, Vincenot CE, Bouchard C, Ogden NH, Leighton PA. Context-dependent host dispersal and habitat fragmentation determine heterogeneity in infected tick burdens: an agent-based modelling study. R Soc Open Sci. 2022 Mar 30;9(3):220245. doi: 10.1098/rsos.220245. eCollection 2022 Mar.PMID: 35360357.
Tardy O, Bouchard C, Chamberland E, Fortin A, Lamirande P, Ogden NH, Leighton PA. Mechanistic movement models reveal ecological drivers of tick-borne pathogen spread. J R Soc Interface. 2021 Aug;18(181):20210134. doi: 10.1098/rsif.2021.0134. Epub 2021 Aug 11. PMID: 34376091.
Tutt-Guérette MA, Yuan M, Szaroz D, McKinnon B, Kestens Y, Guillot C, Leighton P, Zinszer K . Modelling Spatiotemporal Patterns of Lyme Disease Emergence in Québec. Int J Environ Res Public Health. 2021 Sep 14;18(18):9669. doi: 10.3390/ijerph18189669. PMID: 34574592.
Vasudevan P, Moorthy RK, Rebekah G, Jackson E, Pamela BE, Thamizhmaran S, Manoj J, Thanigachalam A, Drevets D, Carabin H, Rajshekhar V. Imaging correlates of serum enzyme-linked immunoelectrotransfer blot (EITB) positivity in patients with parenchymal neurocysticercosis: results from 521 patients. Trans R Soc Trop Med Hyg. 2022 Feb 1;116(2):117-123. doi: 10.1093/trstmh/trab091. PMID: 34157108.